little strides
Mobile App for New Parents.
Finding Quick Answers to Your Critical Questions.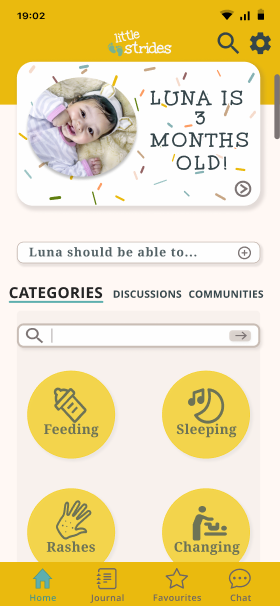 The amount of information on the internet is limitless. Finding specific and relevant information without going through multiple forums, blogs, websites is exhausting, and the question of credibility is still there. This lengthy process takes a long time - time people may not have.
Audience
Parenting is no easy task, especially for those who are first-time parents. There are also expectant parents or parents lacking social connections that also struggle to find the tools and resources they need. These parents wanting the experience look towards other parents for tips and advice.
Constraints
This project has a narrow scope as it centers around first-time parents who would require an internet connection and a mobile device to view the product.
Depending on the users' beliefs and cultural background, differing opinions may arise. The conversations taking place within the product may also cause discomfort for people due to sensitive topics.
Another factor would be the cost needed to maintain servers. There is also the need to hire people with the right skill sets to build this community-based product in the future. The potential to hire moderators to meet compliance is also a consideration.
Goal
The objective is to provide a product for first-time parents to connect, navigate, and share their experiences. Creating a product where first-time parents can share their journey will provide support and guidance to better care for themselves and their baby.
With this objective in mind, it led me to my design question:
How might we connect first-time parents with each other in order for them to share their experiences and receive the support and guidance they need?
Strategy
To begin tackling the problem space, I created a proto-persona. Creating the persona would provide more clarity into recognizing the needs and frustrations of my user. I also mapped out a value proposition to gain a more in-depth understanding of my target users' needs.
From this, I defined some assumptions:
They struggled as a first-time parent

They want to connect with other parents

They want to share their concerns about parenting

They want to have reliable and trusted information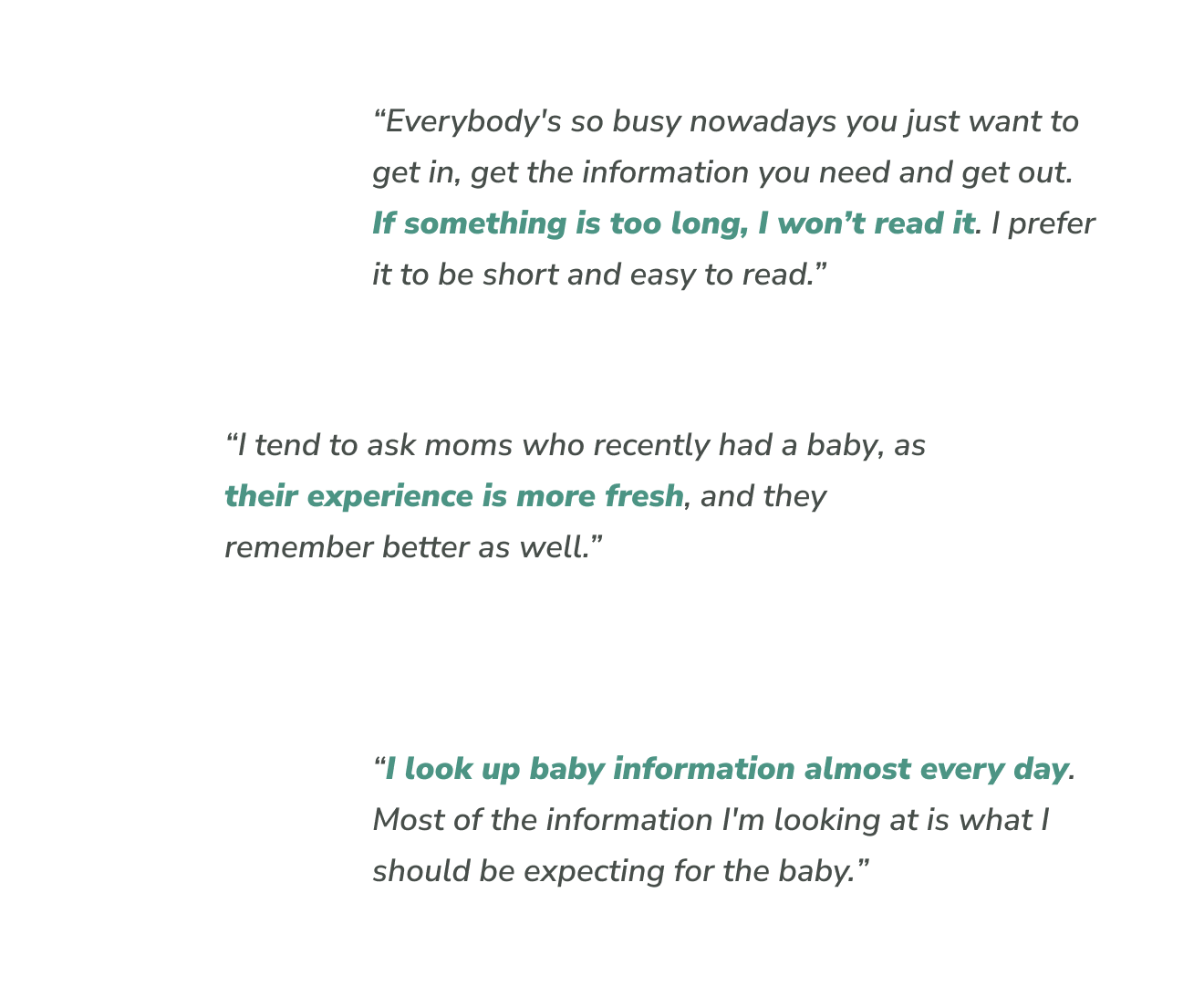 Interviews
After establishing my assumptions, I conducted primary interviews for a clearer understanding of the problem space.
I prepared a set of questions to learn where and how parents were finding the information they needed to care for their baby. I also wanted to understand their feelings about the current parenting apps they used, and the pros and cons of existing products.
Next, I proceeded to organize one-on-one interviews with five participants that fulfilled the following criteria:
First-time parents

Their baby is already born

Joined support groups or forums

Uses app on mobile
Insights
After gathering the information from the interviews, I found three emerging themes:
From my findings, I framed this hypothesis:

I believe that if information was more discoverable to new parents, it will reduce their concerns and save them time, resulting in an increased quality of parenting.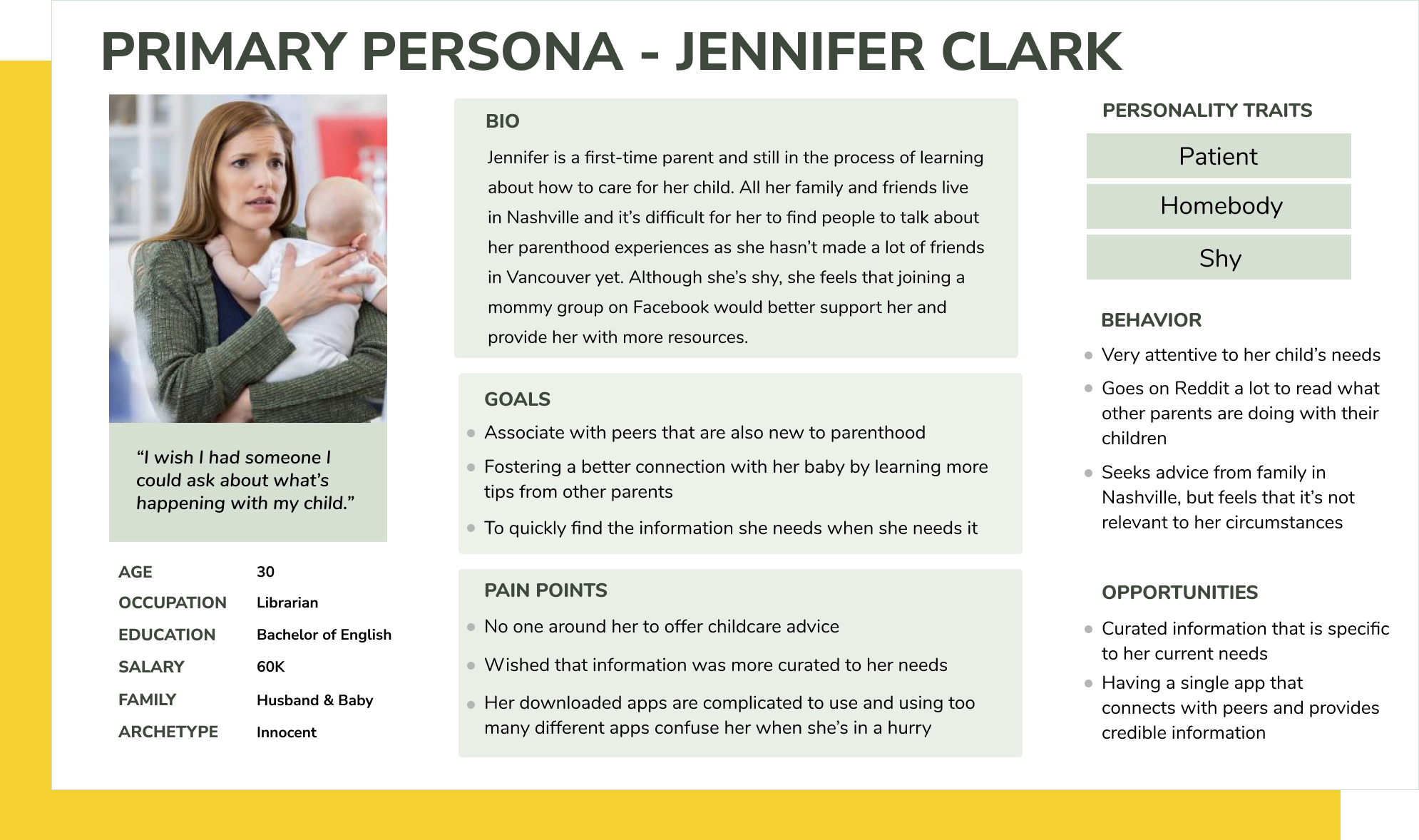 Persona
The previous assumptions made were developed into two personas. While both personas are new parents, their scenarios vary.
First, there is Jennifer, who recently relocated to Vancouver with her family. As she is new to the city, she has yet to make a local connection. With the stress of moving and taking care of her baby, she feels that there is never enough time to research the information she needs. Her goal is to find other new moms to learn tips and share her journey.
Based on the interviews, I devised a persona and referred to it throughout the entire product development process.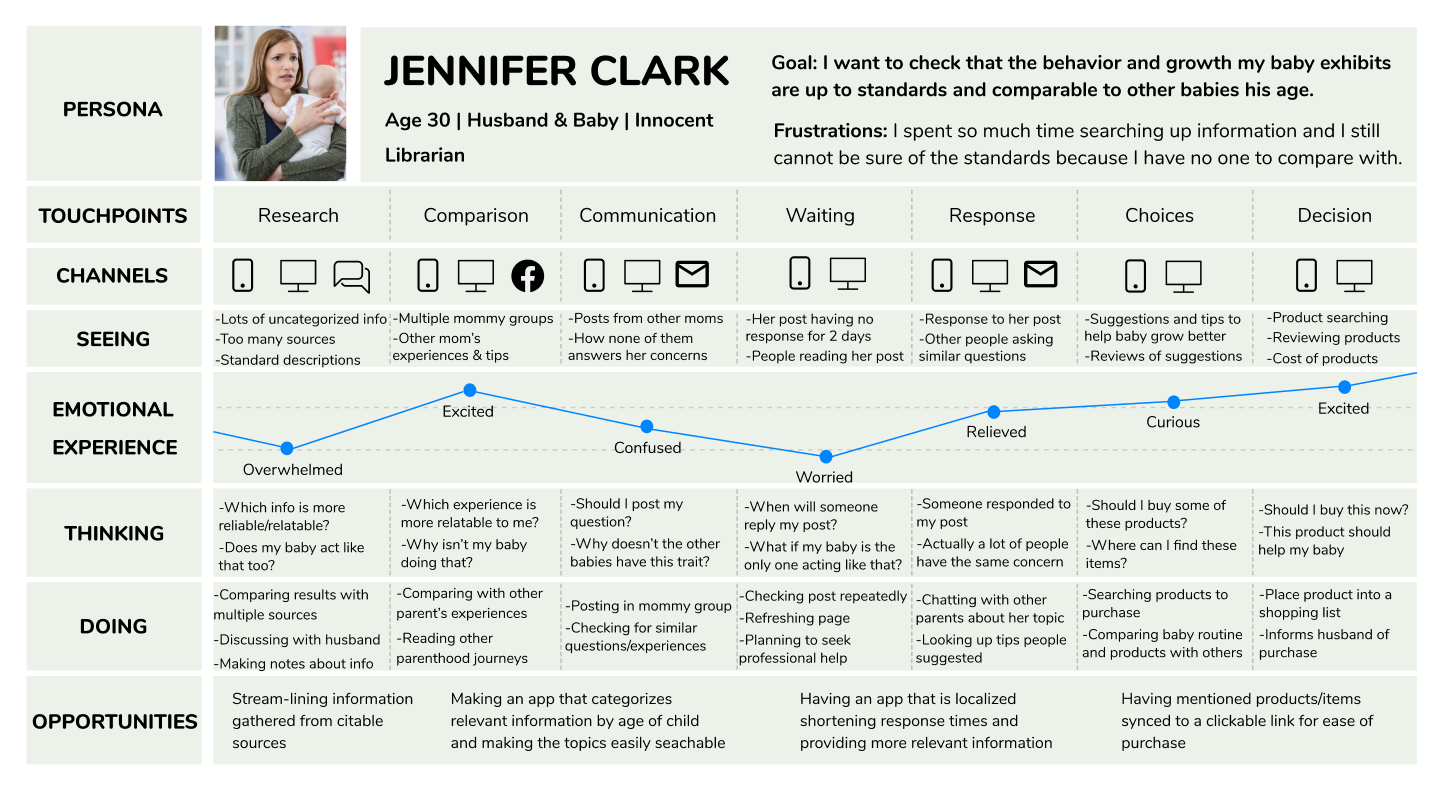 Experience Map
Contrary to my initial beliefs of users wanting a product to connect, it became clear that users were looking for a product that would provide more reliable information from credible sources. The option of discussing their concerns with other parents and gain insights from their expertise was secondary.
Expanding on the user's journey, I created an experience map to thoroughly understand their needs and pain points by pinpointing and minimizing their negative experiences.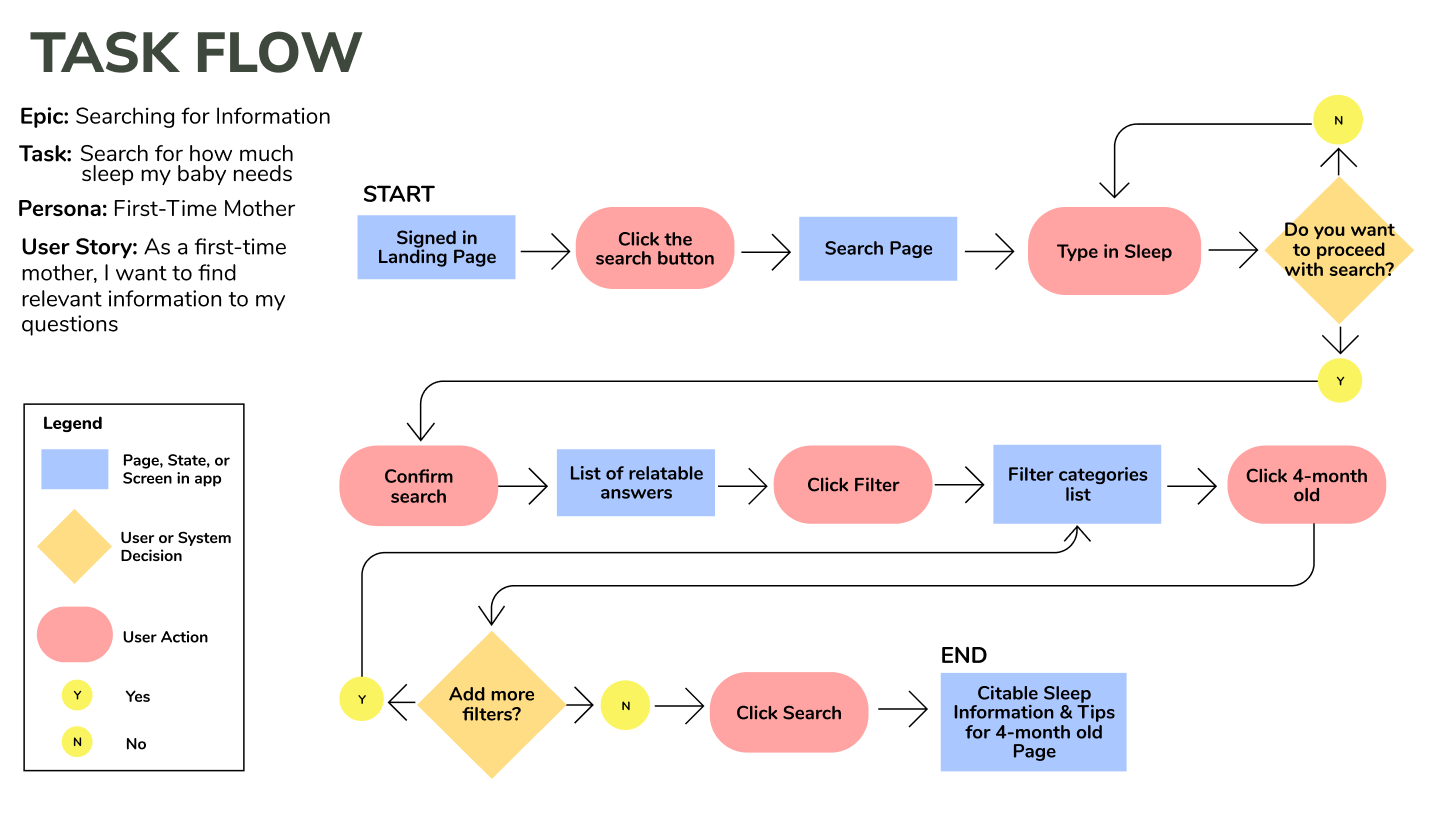 User Journey
Referring back to my primary persona, I mapped out Jennifer's journey to find the relevant information to her question, "How much sleep does her baby need?" In this scenario, the user wanted quick answers to her question as she has limited time to research.
Looking at the user journey, it became apparent that the landing page would be where the user spends the most time. Having complicated layouts of the search bar or searches not filtered to the relevant age group would cause the time to be spent. Simplifying the landing page's design by providing a feature that would pre-filter to the baby's age after creating their profile would save time and make accessibility easier.
To simplify the user's journey, I mapped out their steps to define their most important goals with the product.
From the interview insights, new parents have very little time to spare. They are looking for reliable information that is accessible and relevant to their baby. Parents also want to have a product where they can find support from other parents.
By making information more discoverable to first-time parents, the amount of time used to locate information will be reduced. Doing so will allow parents to focus on more important aspects like providing higher-quality parenting.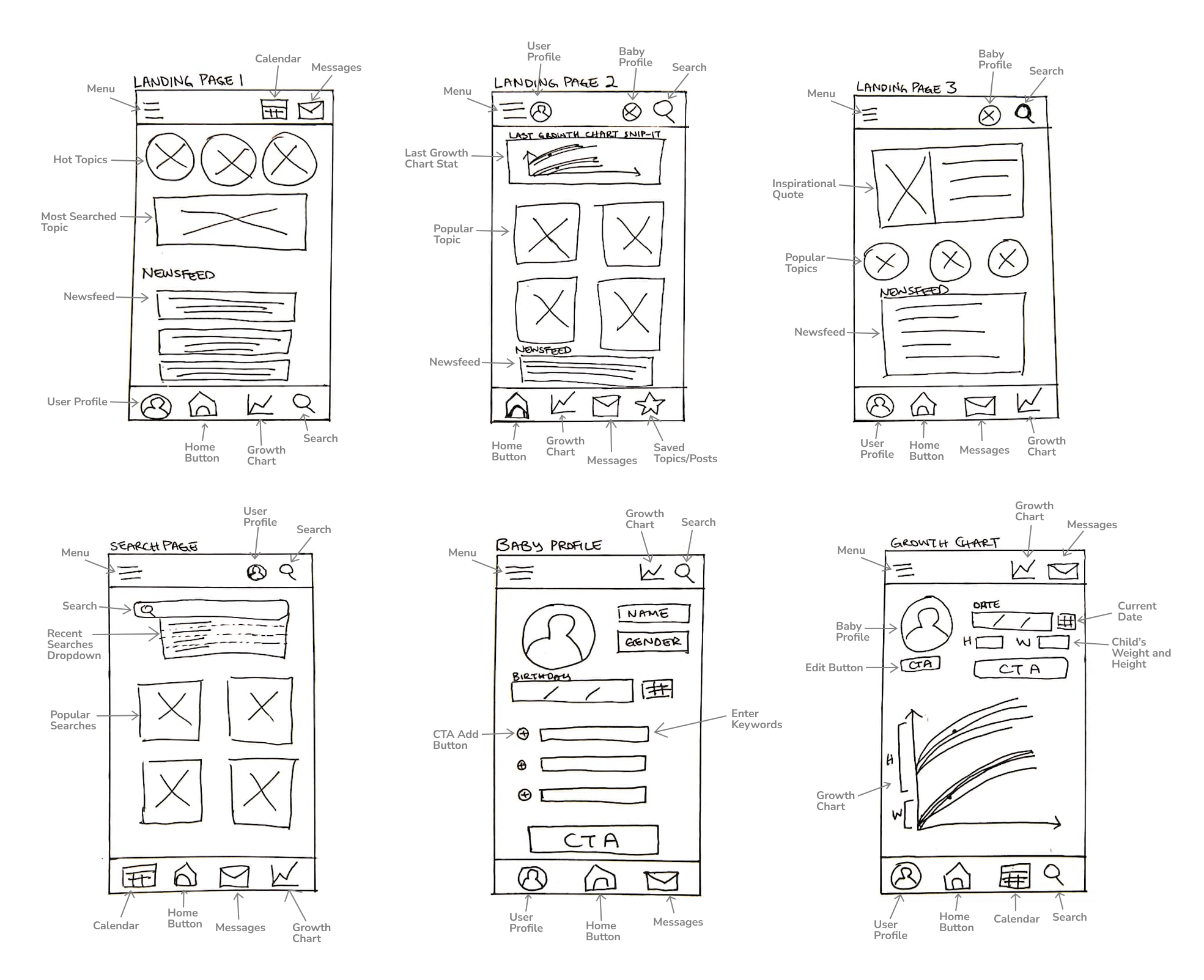 Sketches
I began by sketching three low-fidelity landing pages, focusing on the arrangement of content and design components. It was important to appear friendly and welcoming as this product catered to parents.
With the personas in mind, I chose the design 'Landing Page 1' because of how accessible and effective it would be for the user. I focused on the information hierarchy to allow for easier access to popular topics or trending discussions. Also, in place of a direct chat function, I added a community section instead as parents were not very receptive to it.
Other features were also access to age-relevant information about their baby and a World Health Organization growth chart for parents to track and better understand where their baby stood in the percentile.
The purpose of my sketches was to brainstorm designs before the final selection. By sketching out my ideas, I was able to make quick decisions on whether the features were consistent with the user journey and if it helped to alleviate their pain points.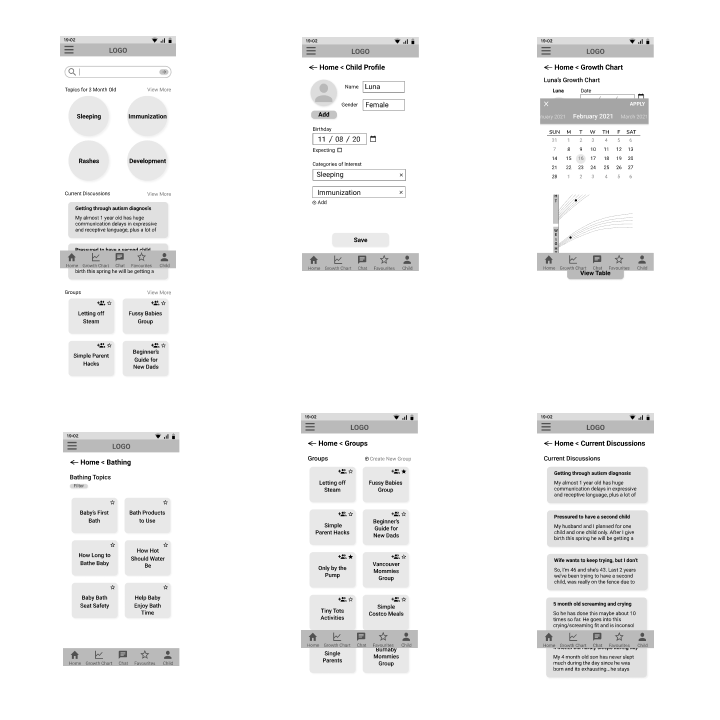 Wireframes
To test the sketch designs, I needed a higher level of wireframes to showcase the product better. For a more accurate visualization, I created grey-scale wireframes in Figma, which concurrently allowed for prototyping.
Through grey-scale wireframing, I was able to present the key features in a more detailed manner. It allowed for a better experience and highlighted the features that mattered most for the users.
By building grey-scale wireframes, potential users would get a clearer understanding of the product.
User Testing
To ensure that the product worked as intended for the user, I recruited ten testers that were first-time parents. Each round of testing had five participants, and all testings were completed remotely over Zoom or the phone. From this first testing, it became apparent that users wanted to see more content related to their baby's age or milestones and age-specific information. From the feedback, some proposed changes were:
Placing search bars under relevant topic headings for further differentiation

Adding baby milestones on the landing page

Rewording the language used for the labels

Adding labeling and title for the growth chart
After updating the iterations, the second round of testing revealed that users performed tasks better. However, the lack of filter options and a scroll indicator on the pages was an issue. Based on the feedback, the proposed changes were:
Alphabetizing the category and topic names

Adding more context to the filter options

Making the heading on the landing page more welcoming

Before finalizing the product, I completed two rounds of testing to see if it revealed any usability challenges.
I developed a UI Library documenting the refined visual components and elements created in my high-fidelity prototype. To start, I defined adjectives that would set the tone for my product:
Playful
Lively
Colourful
Organized
Celebratory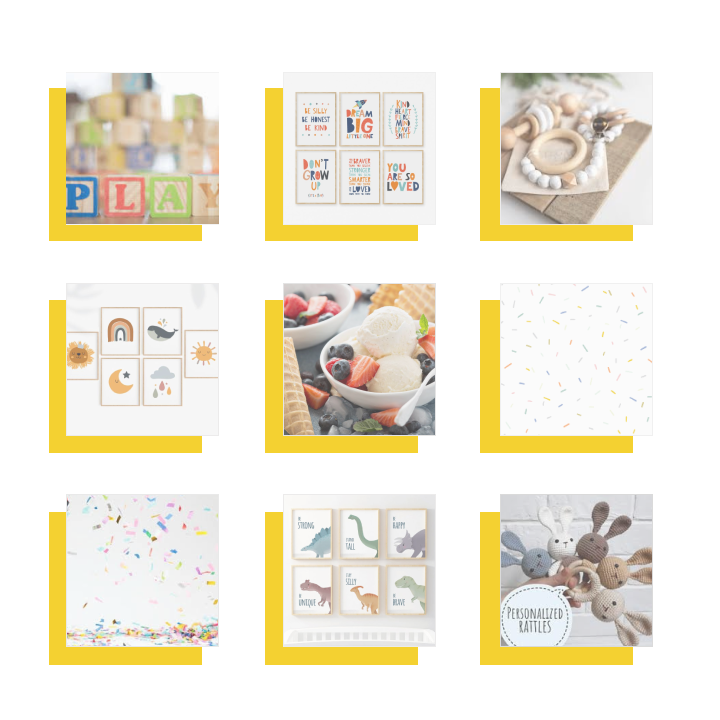 Mood Board
By translating the tones and feelings of my product into visual elements, the theme of 'Playfulness' emerged. The bright colours and happy tones mimic a child's playfulness and positive nature.
To decide the tone of the product, I curated a mood board to highlight the aspects I wanted my product to encompass.
Colours
To present a stronger cohesion to the theme, I selected yellow as my primary colour. Yellow is known for spontaneity, happiness, and positivity, which are traits I wanted the product to embody.
As a complement to yellow, I chose green as a soothing and natural accent colour as it symbolizes growth, safety, and fertility.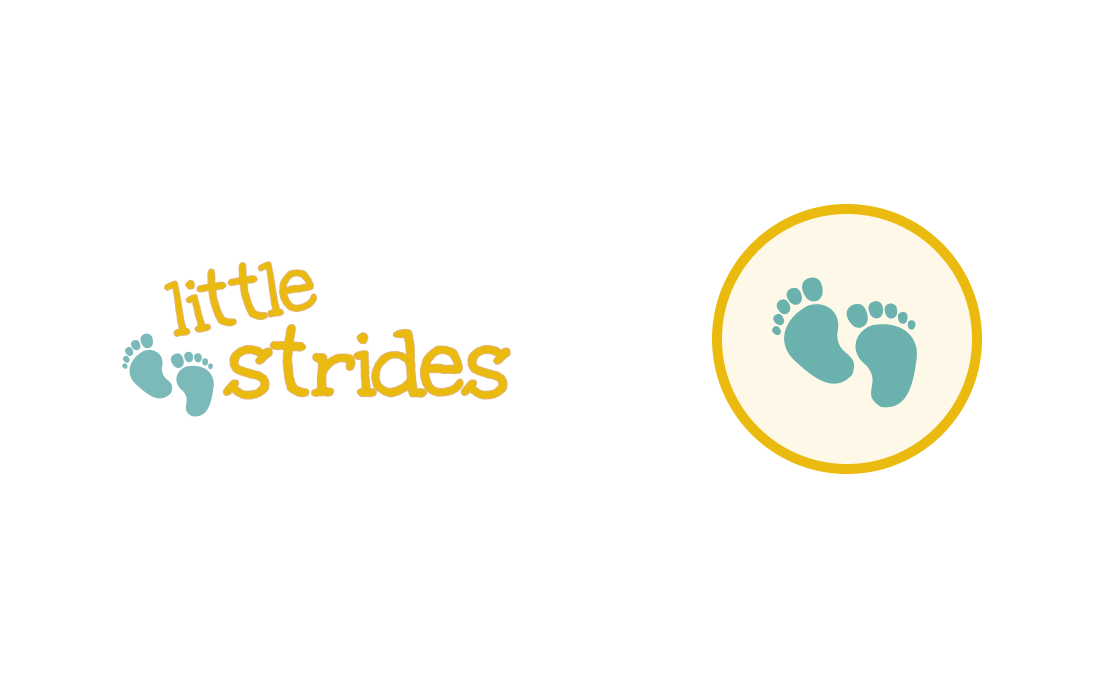 Logo
The name serves as a reminder for parents to take their time in learning about parenthood. Also, opting for lowercase letters de-stresses the word and creates a softer image.
While thinking of the logo design, baby footprints serve as a visual indicator for the word strides, and round shapes and contrasting colors of yellow and green made it appear friendly.
I explored potential names and selected "little strides", which emulates the feelings that first-time parents might have.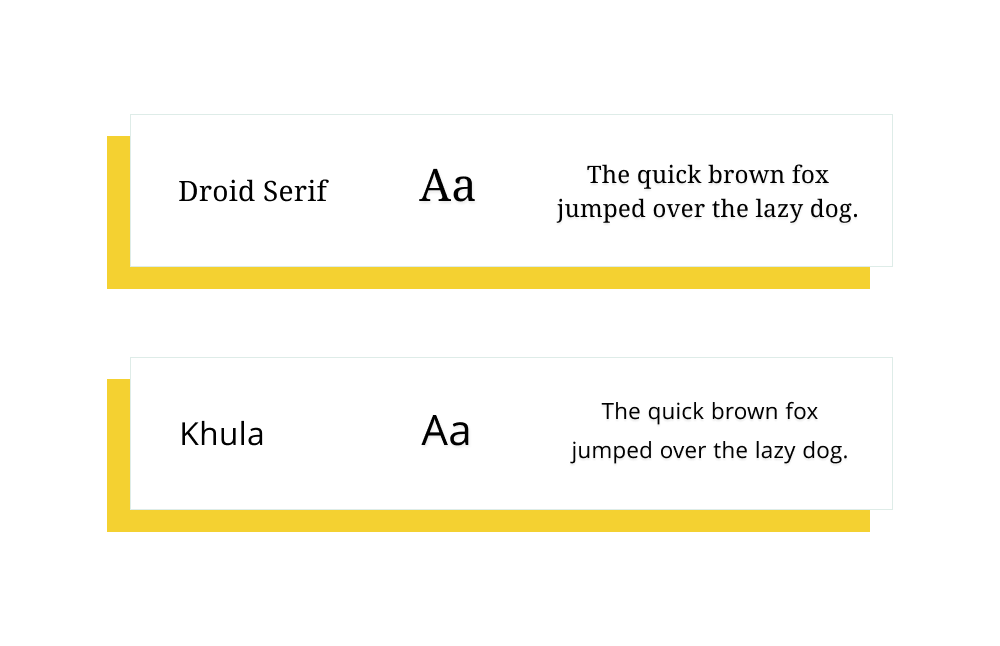 Typography
As parents wanted easily digestible information, I decided on a serif typeface, Droid Serif. Using Droid Serif for the general text ensures that content was structured and readable for the user.
To provide contrast to the body text, Khula, a more contemporary sans serif typeface, was used for the heading to depict a more modern look with its friendlier appearance.
Having settled on the brand concept, I focused on finding a typeface that matched the product image.
Fundamentals
Following the frameworks, as outlined by Material Design, I structured iconography and components with rounded shapes and edges to soften the overall design. To make the design more visually friendly, I included simple shapes for the components. I also made cards and buttons larger to be easily scannable for the user.
To refine my brand's visual identity, I used the principle of atomic design to build the design system with the chosen theme of playfulness in mind.
Prototype
For the final iteration, I referred to the user feedback to make the product appear more welcoming by incorporating bright colors, rounded shapes, and large buttons and cards into the design.
Also, to make the product more accessible, I kept content on the same page for more transparency to increase the user's perception that they were saving time, as going to a new page often seems time-consuming.
With a more streamlined experience, users feel that the information they need is more easily discoverable and that their time is respected.
Designing and stitching the final high-fidelity wireframes into a prototype helped the user to visualize the experience.
Improved Prototype
After completing my 10-week capstone project, I improved the accessibility and information hierarchy by simplifying the design further.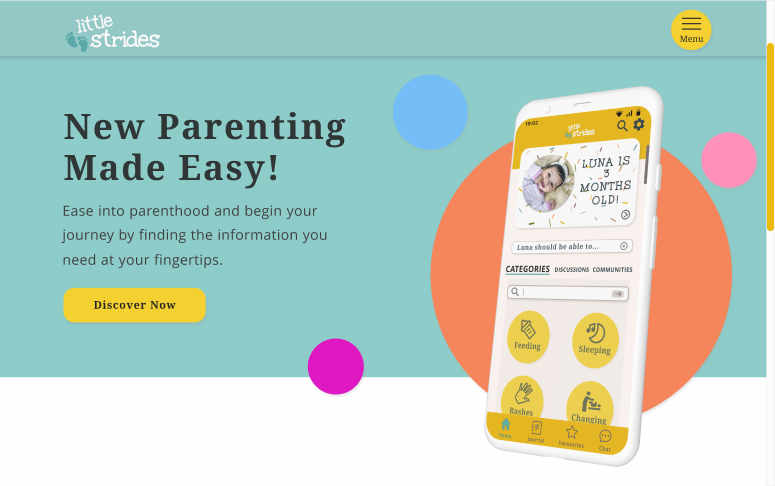 Marketing
To increase the product's discoverability, I plan to launch a marketing website. Engaging users by demonstrating the product's core features will convert more users and improve adoption.
I also plan on recruiting mommy bloggers and influencers to gain more traction in search engine optimizations. The increased exposure and attraction of users will ensure the product's further success.
I built a mockup to illustrate the marketing website's potential design to attract more potential users, investors, and team members.
Tablet Variation
Another consideration for the future would be to implement and adopt other platforms for the product. One alternative for users would be an iPad platform, a popular choice besides the mobile as it is also portable and compact, easy to carry around. The iPad also encourages users to share their screen, allowing multiple users to engage with the product. By creating more variations, it will increase more exposure, reaching a wider audience.
To showcase the product's potential design on the iPad, I created a mockup of some static screens.
Impact
As more and more of our communication and information become digitized, finding relevant information is time-consuming and overwhelming. Having time is a luxury that parents lack as they are busy with their baby needing their full attention. By creating a product that makes accessing information easy, parents can be less stressed and more efficient with their time. It can also create a stronger sense of community by unifying parents to share and resolve their concerns together.
Creating a more accessible solution for users will allow them to refocus their attention on the truly important things.
Learning Process
In the ten weeks of working on this project, I learned three key lessons:
Understand who your users are

The initial ideas I thought mattered to my users were secondary concerns. It was only through interviews and user testings that I was able to truly understand what my users wanted and not what I thought they wanted. I learned that being more flexible with my design decisions makes for a better overall product.

Listening without interruption

As most interviews were conducted through Zoom, it was often difficult to gauge the flow of conversation as interruptions can cause users to become less inclined to speak. In designing the product, it was helpful to engage further with the user to learn more about them and their habits.

Take a breather and step away from the screen

While being focused on designing the product can be great, it is easy to forget to walk away from the screen and take a breather so that fresh ideas can come. Stepping away can also bring a new perspective to the design that was not apparent before.